This post may contain affiliate links for products I love. I may receive a small commission, at no extra cost to you, should you wish to make a purchase through these links.
When I figured that my biological clock is ticking, we made the decision to start trying for a baby. My lifestyle took a 180 degrees turn from starting to eat organically to giving up social drinking. All because  I wanted to avoid any nasty stuff that can potentially harm my unborn child.  This includes skin care.
I have discovered some amazing natural and effective skincare products that are free from parabens, colorants, xenoestrogens, PEGs, phthalates and more for my morning beauty regimen. Before we go on to my favorite picks, here are some ingredients best to avoid during pregnancy.
Commonly Found Beauty Ingredients To Avoid During Pregnancy
Retinoids (Retin-A, retinol, and retinyl palmitate): There's a proven link between the use of retinoids and an increased risk of birth defects for developing babies.
Salicylic acid: When taken orally, salicylic acid can cause pregnancy complications and even birth defects. It may be safe to use on the skin to help treat acne but use sparingly.
Hydroquinone: A powerful skin lightening agent that has been shown to be absorbed as much as 45% into the skin. It is just best to avoid because too much of this prescription medication is being absorbed.
Formaldehyde: Cancer-causing agent commonly found in nail polish, hair straightening treatments, and eyelash glue.
Fluctuation in hormones can cause all sorts of pregnancy-related skincare issues. Not to mention acne, hyperpigmentation and unwanted hair growth.  It's best to keep the skincare regimen, as well as make-up, as simple as possible.  Below are the skin care products I've used to achieve that pregnancy glow!
CLEANSE: MAMA MIO GORGEOUS GLOW FACIAL WASH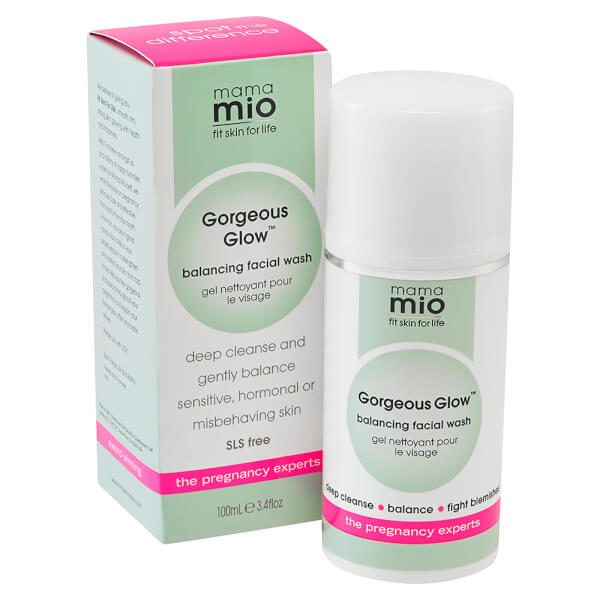 This facial wash contains natural and effective radiance-boosting ingredients (tea tree oil and green tea leaf extract) to combat that pregnancy dullness. The natural, coconut-derived cleaning agents are just as effective as the harsh Sodium Lauryl Sulphate found in many cleansers in getting dirt and make-up off. It smells lovely as well. Click here to discover more amazing pregnancy safe products by Mama Mio. Did I mention FREE delivery and a FREE GIFT with every order?!
TONE: APPLE CIDER VINEGAR TONER
No, you are not putting this directly on your face. Don't ever do that. Don't ever let your kids do that because it'll burn! Apple Cider Vinegar (ACV) is touted for its many benefits for the skin such as balancing the skin's PH (so your skin can breath comfortably between oily and dry), lightens sun spots, improves acne scars, dissolves dead skin cells and more.  To make this natural toner, add 1 part of ACV to 3 parts of the distilled water in a container.  Shake well before use. Apply this toner with a cotton ball or pad to your cleansed face.  I highly recommend the Braggs organic apple cider vinegar because it contains the 'mother' which is the essence of cider vinegar. Shortly after I started using the toner I have seen a drastic improvement in my skin's dullness. 
EYE CREAM:100% PURE ACAI BERRY EYE CREAM
100% pure is known for its, you guessed it – 100% pure ingredients! Unlike some other natural brands that have weird consistencies, I mean, either chalky, lumpy, greasy, or just straight up smelly, 100% pure skincare goes on smooth, are easily absorbed, and unscented. This acai berry version of the eye cream is perfect for preggos because acai berry is packed with antioxidants and omegas fatty acids (the good fats necessary for brain development). After I have my baby, I switched over to the coffee bean version of the eye cream because I needed it for my dark circles from being a mom.💪
HYDRATE: 
SEABUCK WONDERS SEA BUCKTHORN FACIAL CREAM
A lesser-known superfood skincare ingredient is sea buckthorn. This rising star is loaded with omega oils (the good fats essential for healthier complexion and brain development). This truly remarkable ingredient is a must have for safe pregnancy skin care.  I had fallen in love with the Seabuck Wonders facial cream, down to my 5th tube, because it's super hydrating without the greasiness.  It is light enough for the day and moisturizing enough for the night. I also love that there is a subtle orange fragrance (from its essential orange oil). Best of all, it is fairly inexpensive.
SUNSCREEN: JOSIE MARAN ARGAN DAILY MOISTURIZER SPF 47
Many SPF contains oxybenzone, which is best to avoid during pregnancy because it has been linked to low birthweights in babies.  When choosing a sunscreen, it is best to consider zinc oxide and titanium dioxide as the active ingredient. Besides its natural sunscreen ingredients, this luxury skincare line is known for her argan oil superstar. Like sea buckthorn, argan oil is also packed with beneficial nutrients like fatty acids and vitamin E. It deeply moisturizes and absorbs quickly. As I live in sunny southern California, daily SPF is a must. Josie Maran's Daily Moisturizer is a bit on the heavier side for me so just a tiny bit goes a long way.
LIP TREATMENT:MAMA MIO SUPERSTAR IN A JAR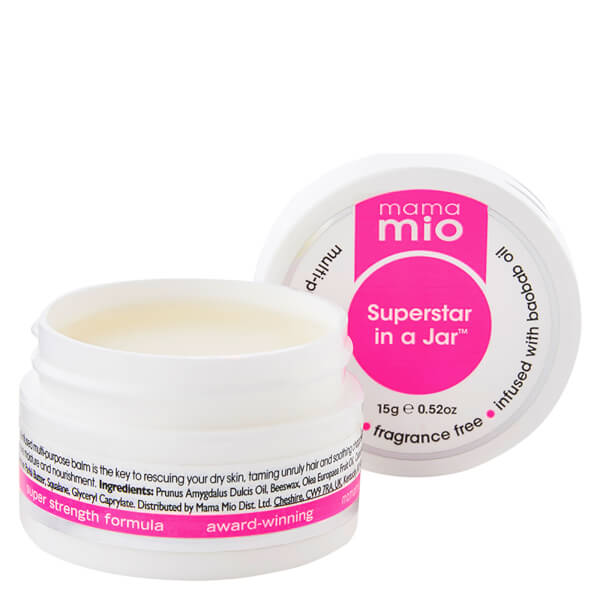 I have the entire Mama Mio skin care line and this superstar in a jar deserves a crown. First of all, Mama Mio is a natural and safe skin care line developed just for mamas. Second, the jar is jam-packed with baobab fruit oil which contains more antioxidants than any other fruit on earth. Last but not least, this compact jar can be used on dry spots, cuticles, split ends and more. I mainly use it for my dry lips and eczema. As this jar is quite compact, I carry it in my purse where ever I go!
Click here to discover more amazing pregnancy safe products by Mama Mio. Did I mention FREE delivery and a FREE GIFT with every order?!
We have already given up a lot during pregnancy – that morning cup of joe, wine tasting, and restless energy. There is no need to give in good skin. With the avoidance of harmful ingredients and choosing effective skincare wisely, you can still have an amazing pregnancy glow! Continue on to read my night pregnancy safe skincare regimen.